I've been immersed in old films lately. I have to admit that I very often find old films a lot more enjoyable than new ones, so armed with a birthday Amazon voucher I bought a few favourites…one of which is the first film I ever remember watching.
I can remember going to school in first year of primary and sitting in a room one day talking to my friends about tv. It's one of those weird memories that stick for some reason…I can distinctly remember telling my friends that I was allowed to stay up and watch a scary film about a ghost. That film was The Ghost Goes West and ever since I've had a fondness for the film and its actor Robert Donat.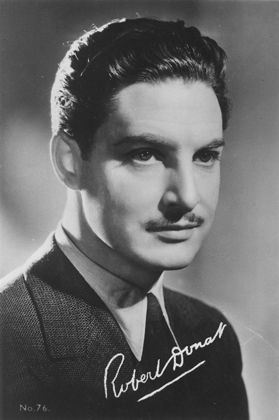 http://www.britishpictures.com
If you don't know the film it's a story of a Highlander, Murdoch, who liked the ladies but after dying a cowards death was doomed to roam the halls of his castle until he could clear his family's name. Cue the "modern day" impoverished owner, Donald, surprisingly enough the spitting image of the ghost, desperate to sell the castle to pay off his debts. Add a pretty American heiress and her family and the scene is set.
http://filmsdefrance.com
It's a brilliant film and if you haven't seen it, and if you love classic films, then you really should get hold of a copy. The quality is quite bad now, but for a film that is nearly 80 years old I think you can forgive the odd scratch and sound fluctuations.
Released a year after one of Donat's most famous film, the 39 Steps, this is the one that has stuck with me. Although Goodbye Mr Chips, for which he won a Best Actor Oscar, and where he ages fifty years throughout the film, is an absolute must for anyone in search of cinematic history.
Donat had chronic asthma and apparently had problems with confidence and self-doubt…I hope he finally realised what a great actor he was. Robert died in 1958 aged only 53 after completing his final film, another great, the Inn of the Sixth Happiness with Ingrid Bergman.
Funny how serendipity works…I also have a fascination with the work of the architect
C.F.A. Voysey
, and Donat's first wife Ella Annesley Voysey was a niece of his. Plus Donat's mother came from a Whitby family…were my family have settled. Hmmm. Cue some research I think
J
There are also a collection of his letters now housed at John Rylands University Library in Manchester. Oh how I'd love to sit and read through those!!
If you want to read more about his life and works, Wikipedia have a
short biography
, but I'd recommend reading the biographical history
here
at John Rylands.
They just don't make gentlemen actors like him anymore.